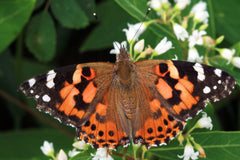 For a successful release, the temperature outside should be at least 
68 degrees F, and sunny with no strong wind or rain.
No refunds will be given for bad weather. 
  Butterflies must be released at least 2 hours before sunset.
 Painted Lady butterflies are smaller than the Monarch butterfly. The Painted Lady has a wingspan of approximately 2 - 3 inches.  Its wings are orange, brown, and white in color.  It is a wonderful friendly butterfly to release!

In your shopping cart, there is a place for you to leave "special instructions."

 Please enter your release date or any other instructions you might have.
Shipping is not included. Please select the appropriate shipping method at checkout. 

If you order 

more than one release box

 there will be an extra shipping charge that will be calculated separately. You will receive an invoice for the extra shipping. The invoice must be paid before shipment. 

FedEx charges $15 more SATURDAY DELIVERIES. If you need a Saturday delivery we will send you an invoice for $15 which must be paid in advance. 
Someone must be home to receive your order when it is delivered. Butterflies cannot be left outside in their shipping box.  Local Pickups are $10.00 and by appointment only. You can schedule your pickup appointment by email at least 24 hours in advance.  Butterfly release and care instructions will be shipped along with your order.
---